EDMONTON SHRINE MOTOR CORPS
The Edmonton Shrine Motor Corps was established in early 1967 as a Unit of Al Azhar Shrine Temple of Calgary Alberta, Canada. In 1985 Al Shamal Temple was established in Edmonton Alberta , Canada and the Corps now is a Unit of that Temple.
Like most Shrine Units, the objectives of the Motor Corps are to support the philanthropic work of the Shrine and have fun and comradely while doing so. We do this through participation in parades, the Edmonton Shrine Circus, the Pacific Northwest Shrine Association (PNSA) and Shrine Imperial competitions. Participation in parades and the circus help us promote the Shrine and Shine Hospitals to the general populations throughout Northern Alberta.
The following links are to photographs that attempt to document many of the competitions, parades and social activities that took place during the first 45 years of the Unit:
1968 through 1989 – Denver & Los Angeles
1990 through 1993 – Toronto, Spokane, Billings & Orlando
1994 through 1996 – Seattle, Butte & Portland
1997 and 1998 – Boise
1999 – Calgary
2000 through 2001 – Spokane & Billings
2002 through 2006 – Vancouver
2007 through 2010 – Anaheim & Boise
Special thanks must go to Lorne Anfindsen for his years of work taking photos and maintaining a large collection photo albums. Dale Christensen also contributed many of the photos. Also contributing photos were Jim Forbes, Mike Ledig, Jim Matheson, Harvey Millar, Don McGarvey and Robyn Peace, some unknown photographers and a few newspapers.
2010 Parades
Morinville Parade - June 26, 2010 - Photos taken by Robyn Peace
Ft. Saskatchewan & Legal - Ft. Saskatchewan (July 1) and Legal (Tuk Tuks and Shrine) - Photos taken by Robyn Peace
Ponoka - Ponoka (July 2) - Photos taken by Robyn Peace
Camrose, Lacombe & Ranfurly - Camrose (July 29), Lacombe & Ranfurly (Tuk Tuks and Shrine)- Photos taken by Robyn Peace
2011 Parades
Robyn Peace provided photos for the 2011 parades at St. Albert, Stony Plain, Ft. Saskatchewan, Capital X and the BBQ at Lorne & Anne Anfindsen's. Lorne also provided some photos of the BBQ.
Ina and I took a few photos the Alberta Beach and Camrose parades.
In August nine riders attended the PNSA in Butte Montana. There are three sets of photos, mine, Don Bauers and Don Anderson, the Al Shamal Photograher. There is also a short video of part of the competition routine.

2012 Parades
We lost some of our photographers in 2012, so have a limited number of photos.
We purchased a new trailer which has up-to-date pictures and advertising and I was able to get some photos of the preparation for the Edmonton parade and some of the parade happenings at Alberta Beach.
2013 Parades
In 2013 we attended most of the same parades as in the past. We chose Sherwood Park for the July 1 parade because Ft. Saskatchewan could not guarantee a water free parade. I have photos from Leduc, Ponoka, Sherwood Park and Edmonton. We attended the PNSA in Lethbridge Alberta and won 1st in competition and parade and had a great BBQ to close out the 2013 season. Also, a few special Halloween photos.
2014 Parades
2014 parades were a bit of a challenge because of the small number of active riders. This was partly overcome through the help of some of the Past Riders who participated in several parades, particularly the Edmonton K-Days Parade. We had a couple of practices to get everyone up to speed. I have photos from the Morinville parade which Don McGarvey provided (the first Parade were we wore the new MC jackets because it was so cold) and a couple of photos from the Camrose Parade. Parades. There are also photos from the BBQ and Christmas Party. I have two videos of the practice Video1, Video 2.

Also, for the second year running, a few special Halloween photos – your President in action!
2015 Parades
2015 - The number of active riders is getting less and less because of death and retirements. Once again we had a few of the past riders join us for a couple of the rides. Unfortunately we had to cancel a couple of parades because of a lack of riders. We did not ride in the K Days parade because the weather was cold and rainy. I missed all of the August events because of travels so I do not have any photos of those parades and events. I do have a few photos from the Devon and Leduc parades which were in late May and some from a move-out we made to the Edmonton Golf and Country Club to support the Potentate on a fund raising event. 2015 Photos.

Once again, few special Halloween photos.
2016 Parades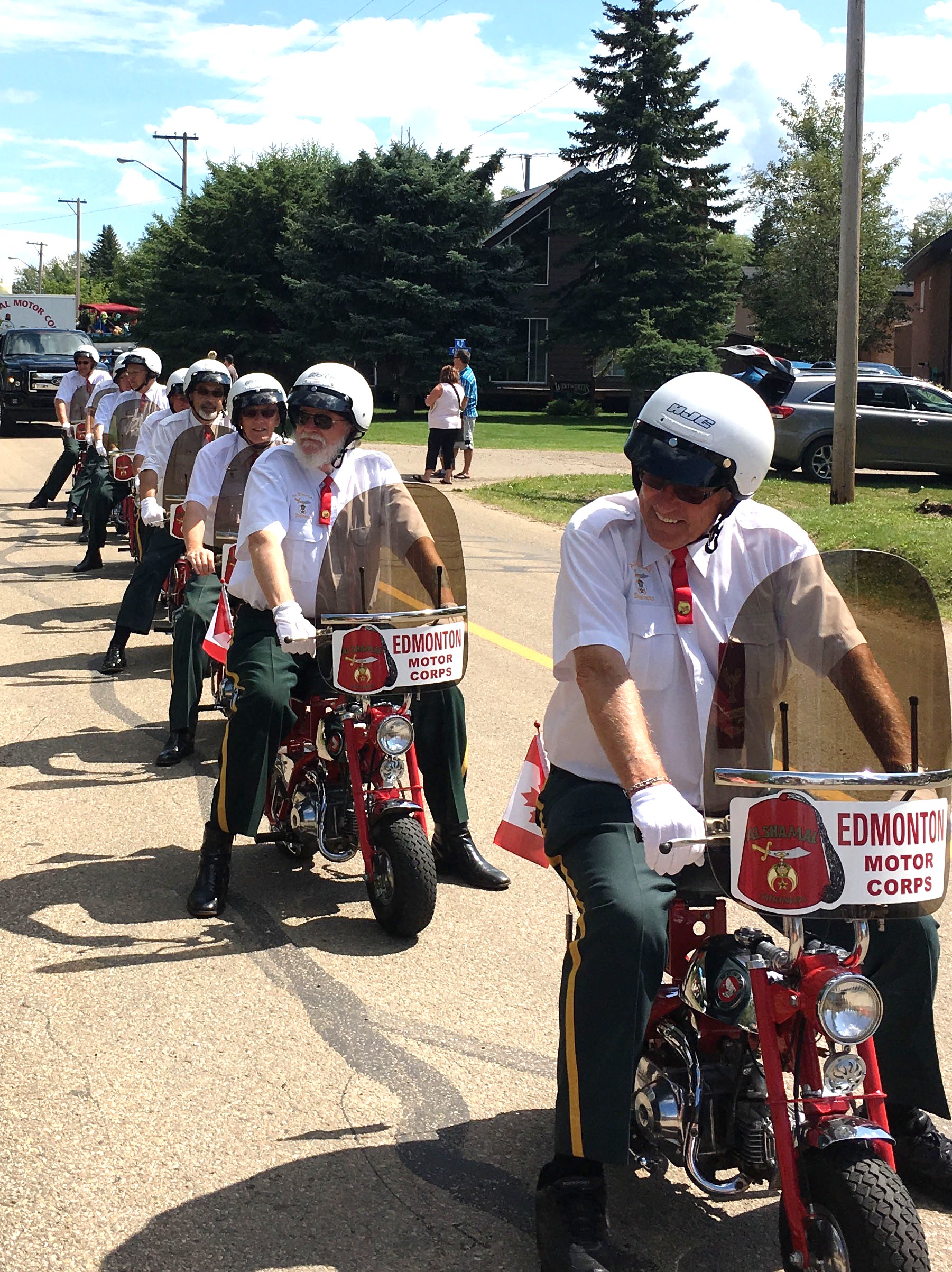 2016 was a bit of a wash as far as photos are concerned. We missed two parades because of bad weather and didn't have anyone taking photos at the parades we did go to other than this Alberta Beach photo courtesy of Larry Heron. I'll try better next year. The only thing I have is Halloween photos.
2017 Parades
2017 Once again I don't have many parade photos. I missed several parades because I was traveling and the K Days parade was rained out. I do have a photo from the Leduc parade where a guy was trying to interest us in a three wheeler model but that didn't go over very well with the riders.

Karey Koch took some photos at the Alberta Beach Parade so at least we have some photos for the year – Thank you Karey.